Samsung Galaxy Tab A 10.1 SM-T515 32Gb
Short review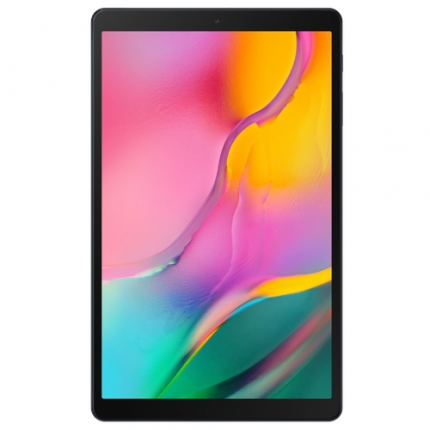 Selected in the rating
Best rating
inexpensive tablets
10-inch - Android 9 - 3G / 4G support
Buy Samsung Galaxy Tab A 10.1 SM-T515 32Gb
Characteristics Samsung Galaxy Tab A 10.1 SM-T515 32Gb
Yandex.Market data
System
operating system
Android 9.0
Number of Cores
8
Built-in memory
32 GB
RAM
2 GB
Memory card slot
yes, microSDXC, up to 512 GB
Screen
Screen
10.1 ", 1920x1200
Wide screen
Yes
Screen type
glossy
Touch screen
capacitive, multitouch
Pixels Per Inch (PPI)
224
Video processor
Mali-T830
Wireless connection
Wi-Fi support
yes, Wi-Fi 802.11ac, WiFi Direct
Bluetooth support
yes, Bluetooth 5.0, A2DP
SIM card type
nano SIM
Number of SIM-cards
1
mobile connection
3G, GSM900, GSM1800, GSM1900, LTE (B1 (2100), B2 (1900), B3 (1800), B4 (AWS), B5 (850), B7 (2600), B8 (900), B12 (700), B17 (700), B20 (800), B28 (700), B66 (AWS-3), B38 (2600), B40 (2300))
Camera
Rear camera
yes, 8 MP
Rear camera features
autofocus
Front-camera
yes, 5 Mpix
Sound
Built-in speaker
there is
Built-in microphone
there is
Functionality
GPS
there is
GLONASS
there is
Automatic screen orientation
there is
Sensors
accelerometer
Format support
Audio
AAC, WMA, WAV, OGG, FLAC, MP3
Video
MKV, MP4
Connection
Connecting to a computer via USB
there is
Connecting external devices via USB
optional
Food
Battery capacity
6150 mAh
Dimensions and weight
Dimensions (LxWxD)
245.2x149.4x7.5 mm
Weight
470 g
Additional Information
Body material
metal
Features:
Samsung Exynos 7904 processor, Dolby Atmos sound system, child mode, Beidou and Galileo navigation systems
Announced year
2019
Customers Reviews For Samsung Galaxy Tab A 10.1 SM-T515 32Gb
Yandex.Market data
Advantages:
Based on the price, a great tablet. 1. The assembly is of high quality. 2. Fresh android at the moment 2019. 3. Good viewing angle on the screen (not great, but I think it's justified for this price) 4. 32GB. Already better than before it was 16GB. 5. You can use a SIM card, if necessary, you can make calls or use the Internet (on trips or in the country, etc.) conveniently! 6. Connector for charging type-c 7. Good sound with settings.
Disadvantages:
In my opinion, nitpicking: 1. 2GB. This is already very little RAM, given that there are many applications, etc. Nowadays, because of this, sometimes the browser or programs lag. But everything depends on the price. 2. The sound is only at the bottom (there are two speakers on the sides), ie If you watch the video on the tablet with the other side in a 16: 9 ratio, then accordingly it will only be on the right or left side (depending on how you turn it over) I did not like it. 3. And where is the vibration for the response and everything else ... I did not find it.
Comment:
In general: I liked turning on the display by pressing the screen a couple of times and it wakes up, or just with the power button on the side. Watch movies or just videos, great. It's convenient to surf the Internet. Easy games without problems. The camera will take off the rules during the day, in the evening there is almost nothing. It is convenient that there is a SIM card tray, it helps on the road, etc. I am satisfied with the purchase, there is no marriage. The rest is up to everyone to decide the taste and color ..... Good luck to everyone in your choice!
June 7, 2019, Moscow
Advantages:
0. Price 1. 10-inch screen 2. Weight 3. Small size 4. Battery 5. Android 9
Disadvantages:
Disadvantages are subjective. For my purposes of use - not important. But for objectivity I will note. 1. 2 gig of RAM is not enough, memory is free in idle mode 600 megs 2. 32 gig of flash is now small. Free about 24 gig. P.S. I ordered a cover-book with the auto-sleep, auto-wake-up function for Ali. A good cover, but there was a problem with screen blanking and vice versa. The tablet does not react in any way, although there is a magnet in the lid. Is there no Hall sensor? If so, then you can not bother and take the cover to a minimum. They are on the market. Well, in general, if so, then this is some kind of savings on matches.
Comment:
It should be noted that I got what I expected, so I'm satisfied. Before that there was a tablet Acer A701 I bought 7 years ago for 20k. But after the next update, it apparently burned out. The requirements were as follows: A relatively fresh 10-inch tablet with as little weight and size as possible. Weight is not at the expense of the battery. Usage - reading PDF, DJVU (Orion Viewer), EPUB, FB2, MOBI (Moon Reader) + articles via Pocket. YouTube, movies. No games, no SMS, no phone. The price is more adequate. There were Huawei, Lenovo, Xiaomi in the alternatives in Russia. There were ideas to wait for version 4/64 or order 10 inches on Ali Xiaomi. But judging by the Spanish prices, this version will add $ 100, equal in price to Xiaomi about 20k. After some deliberation, I decided not to overpay and took this model. It works smartly, the screen is excellent. On Ali I bought a protective glass and a cover. But those who play or use resource-intensive applications may not be suitable.
July 10, 2019, Chelyabinsk
Advantages:
Weight. Build quality. Battery. Screen. Sound (by the way, 2 speakers from the bottom are also dolby atmosphere, it is turned on in the settings). Metal body. Work speed. 4k 60fps including YouTube works fine without brakes.
Disadvantages:
Little RAM. 2g
Comment:
Everything is fine with him. Everything is installed and Whatsapp and the sound is super. I highly recommend it for its price.
May 16, 2019, Nizhny Novgorod
Advantages:
The design, the build quality is good, pretty nimble for a tablet.
Disadvantages:
The Android shell from Samsung is not for me, I think it is not the most convenient, I like an option like Sony's.
11 July 2019, Moscow
Advantages:
It does not slow down on my tasks and this is the main thing. Good (as usual for Samsung) display set up Good battery Good build
Disadvantages:
Sound, I guess. Weakly catches the signal of the SIM card MTS (depending on the location) Charging is not very good, only 1.5 amperes.
Comment:
Before that, there was Teclast T-10. The screen is set up badly, heavy. But the sound was very good. After two years, the touchscreen stopped working and pulled my toy badly. Essno, Android 7 has not been updated anymore. I wanted to take 8.4 (I have one from Samsung, but it's quite old, it doesn't hold toys, although everything works), but all models either simply copy my old Sams, or are too expensive. A friend saw the previous (2017, it seems, years) of this Tab A and I really liked it. I took it and do not regret it. I added a 64 GB memory card from Samsung and put a SIM card. Everything works without comment. The touch is responsive to both fingers and stylus (I usually use them). The screen is great. My toys pull without lags, they do not heat up and the battery does not plant. The battery is very good, enough for 2 days (for me). By the way, you can transfer the application to the card, you just need to find and not all applications. In Settings, my applications go to the application, memory usage and there is an option to transfer to the card. Asphalt 9, for example, in this way I put it on the map (first the bootloader, and then it already downloaded the program to the map itself). Via mobile internet. Depends on the place, saw 10 mb / s for download and 7 for unloading. But in the office it is practically inoperative (although the phone confidently shows 4G and did not notice any failures). It looks like the antenna is not the most sensitive. They also saved on charging, only 1.5 amperes. But I have several Samsung ones, so I use 2A, it charges completely in about 2 hours, a little less. I am still afraid to try on QC 3 (although all other gadgets from it charge much faster). I personally believe that a tablet for content consumption should not cost more than 20 sput. Of these, I can safely recommend this tablet.
July 18, 2019, Moscow
Advantages:
Screen, battery, performance, android 9, some preinstalled programs. 32 GB of memory is enough. After installations in Ing. the menu can be transferred programs to the sd card. Nice oneui interface.
Disadvantages:
Perhaps, over time, there will be not enough RAM. After cleaning, it usually shows 500 MB free. If you do not clear, then 300-400 mb. Not all applications can be ported to sd. Apparently only those that he downloaded from google play.
Comment:
Decent tablet from a well-known company.
July 17, 2019, St. Petersburg
Advantages:
USB-C 3.5 connector
Disadvantages:
No light sensor
Comment:
Occasionally there is not enough memory, programs in the background are unloaded.
13 July 2019, Moscow
Advantages:
Fresh 2019 model Great budget tablet for internet, instant messengers, reading, etc., plus a good battery.
Disadvantages:
Didn't notice.
Comment:
I bought it for Mom, her phone is also on android, so there were no difficulties, everything is familiar and understandable. I was pleased with the 15% cashback in the official store.
July 15, 2019, St. Petersburg
The tablet is wonderful, I love it very much, I use it every day as an excellent hardy workhorse! It holds a charge perfectly, with active use (Internet / video / applications) it does not bug, in general, just my thing, I love it, it never fails!
July 31, 2019, Moscow
Advantages:
Let's just say, Cho liked it especially. 1. High-quality and very loud sound for a mobile device. 2. Very nice screen in terms of visual perception. 3. The touchscreen does not fail. 4. The filling justifies the cost (about 17t.r.).
Disadvantages:
Somehow they did not draw attention.
Comment:
I bought it for my mother, who is over 70, but the whole family appreciated it. the device pleased everyone in use.
August 7, 2019, Smolensk